DEKHA EK KHWAAB: Maanyata, Udayveer kiss as show goes off air!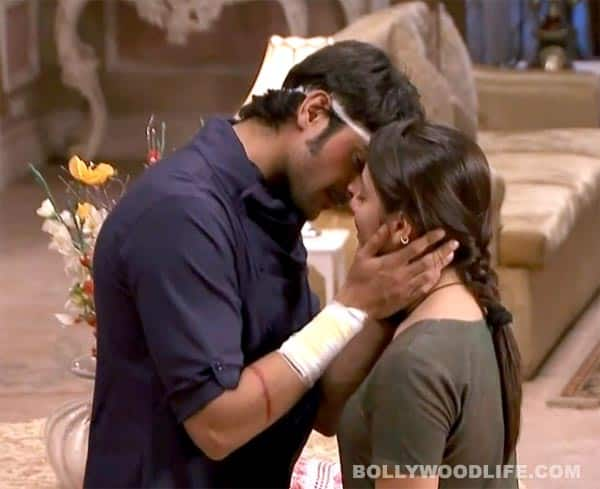 The serial finally ended with much hugging and smiling, but still no Dadisaab aka Rajmata or the rest of the family
Aruna Irani's drama
Dekha Ek Khwaab
ended its year-long run last night (August 2) with happy reunions. Maanayata (Priyal Gor)and Udayveer (Ashish Kapoor) confess their love for each other and indulge in a bit of PDA. Ah, but this is no
Bade Acche Lagte Hain
, so they limit their demonstrations of affection to kisses on the cheek. And just when you think they might progress to a liplock, their siblings Vijay and Unnati interrupt them. Darn, a real shame!
Oh, and we have to tell you about the funniest moment in the entire episode. Maanayata and Udayveer are hugging each other in the main hall with the other two – who have suddenly developed love for each other – when Jaynandini yells at them from the balcony: "Jiji!" Then in adramatic manner, she walks down the steps, cue music and all. The four people present downstairs stare at her with varying expressions of puzzlement, confusion and horror. "Aap kuch bhool rahi ho," she states. (You are forgetting something.) They stare again. Then ever so slowly – almost as if they had to fill the time limit somehow – Jay pulls out the yuvrani's crown from behind her back. She shows it to Maanayata. Everyone stares again, supposedly confused. Jay smiles and says it belongs to the Yuvrani and then places the rather obviously tacky-fake tiara on Maanayata's head. Everybody is overwhelmed and smiles. Jay then bows her head in respect for the crown princess, but Maanayata says, "Chhoti behen ki jagah wahan nahin, yahan hai" (The younger sister's place is here, in my heart) and hugs her. An emotional Jay, mercifully without the eye makeup says, "Sorry". That's it. That 'apology' is supposed to be sufficient for her long list of various crimes.
All is forgiven and the five stars pose together for a group photo, with Uday hugging Jay rather than Maanayata – no, we shall not go in that direction, promise! No mention of the Rajmata or the rest of the royal family. Or why it took Vijay till the penultimate episode to decide to make Jay see sense, or why it took her that long to be convinced. Anyway, we are just glad it's over. Are you?